The Future Fit Organization: Transforming Through Disruption
This article is based on a presentation delivered at the Human Resources Leadership Forum on February 6, 2020. It was written the following week, before COVID-19 accelerated into a global crisis. We are now in the midst of the fifth pandemic in 20 years, and the most far-reaching. There were just three pandemics in the prior 100 years. While organizations must understandably act as "first responders" and address the acute effects of the present crisis, it is imperative that they turn as quickly as possible to developing the capabilities for a future world of work marked by disruptions.
My colleagues and I at MDA Leadership have been exploring the requirements of the Future Fit Organization for some time now, tracking critical workplace trends, discerning the capabilities we believe will be most essential for business leaders to grow and thrive, and helping organizations design future-focused talent systems and practices. With such accelerated and unprecedented changes, no one can confidently predict the reconfigured work environments and talent practices most suited to the future of work. But clearly, we cannot wait for clarity to emerge. 
In this two-part article, our aim is to provide provocative frameworks, fresh thinking, and leading-edge talent practices so that those supporting enterprise talent and leadership can more effectively engage with their teams in shaping the future. Our intent is to help you lead your organization through these unprecendented times.
In mid-January, I found myself in Spotsylvania County, Virginia on the construction site of what will become the largest solar farm east of the Rocky Mountains. It was 7:30 a.m. and time for "stretch and bend," as 250 men and women in hard hats got their bodies loosened up for a day of serious earth-moving and civil construction activities. At first glance, the whole set up—the site trailer, notice and safety boards, laydown area, material stacks and heavy equipment—reinforced the impression of a familiar industry plodding along with old-school methods. Yet a closer look revealed something different, and not simply in the fact that two women, in this heavily male-dominated industry, were up front leading the morning warm up to the beat of Drake's Hotline Bling.
I soon got in the pickup of a grizzled veteran supervisor who drove me around the site. Tommy admitted it hadn't been long since he abandoned his flip phone, then pulled out his smart phone, accessed his Trimble app, and instantly had every dimension, every nook and cranny, of the 3,600-acre construction site at his fingertips. As we drove by a bulldozer, he pointed out the GPS sensor fitted to it and explained that it controlled the dozer blades. The system combines site design information with accurate positioning technology, enabling tolerances as small as two to three centimeters, a precision beyond the operator's skill capability.
Many other indicators that day emphasized what has become more evident with each passing week: the Fourth Industrial Revolution (4IR) is here. The changes are real, visible, and affecting every industry and nearly every organization. Advances in AI, Human-Machine Interface (HMI), Internet of Things (IoT), genomics, 3-D printing, autonomous vehicles, and other technologies, as well as a myriad of social and economic factors like a growing gig economy, major workforce demographic changes, global climate and health issues, and the rise of social enterprises, are combining to drive huge transformations in the nature of work and work environments.
The Necessary Work
These are heady times to be in the "people space." In the coming decade, HR, OD, talent management and leadership development professionals will need to grapple with the fundamentals of how we help the enterprise and its employees to organize, connect, work, learn, and lead. We have hard work ahead, and exciting work too, to reshape and transform human-centered work environments. As uncertain as that work might seem, we need to begin now to shape what we call the Future Fit Organization (FFO). Business leaders are crying for help in this regard, as countless studies indicate, including Deloitte's 2019 Global Human Capital Trends report, which notes that "84 percent of respondents told us they need to rethink their workforce experience to improve productivity. And in the face of new pressures to move faster and adapt to a far more diverse workforce, 80 percent believe they need to develop leaders differently."
My colleagues and I at MDA Leadership have been exploring the requirements of the Future Fit Organization for some time now, tracking critical workplace trends, discerning the capabilities we believe will be most essential for business leaders to grow and thrive, and helping organizations design future-focused talent systems and practices. With such accelerated and unprecedented changes, no one can confidently predict the reconfigured work environments and talent practices most suited to the future of work. But we cannot wait for clarity to emerge.
In this two-part article, our aim is to provide provocative frameworks, fresh thinking, and leading-edge talent practices so that those supporting enterprise talent and leadership can more effectively engage with their teams in shaping the future. In part one, we serve up a rich, speculative model of the Future Fit Organization that contains three core capabilities needed for enterprise health and growth, as well as five essential roles in which Future Fit Leaders must excel. We also identify several current talent practices that, despite seismic technological changes—or even because of them—are likely to increase in importance throughout this decade. In part two, we will investigate seven emerging talent practices that we predict will gain in importance as the twenties progress. We will also suggest the best places for people leaders and their teams to begin designing for this brave new world of work.
As entrepreneur, strategist, and MDA affiliate Joe Perfetti and his colleagues at Percipient Partners have written:
The challenge of architecting the organizational system involves managing two paradoxes. An agile company must simultaneously operate at the core (business of today) and the edge (business of tomorrow) … Leaders must continuously seek opportunities for growth at the edge, while simultaneously ensuring they are not squandering value within the core. The challenge of knowing when to power up which engine, and for how long, becomes critical to the sustainability of the enterprise.
We would argue that the two key positions that most need to tackle this work are the Chief Strategist and the Chief People Officer. The former is the more obvious choice to combat the potential for disruption, yet the latter is crucial as well. After all, talent is the limiting factor on an organization's growth, and the tremendous pressures of 4IR changes are ratcheting up that reality. Just as the core business of today will likely deteriorate and be replaced by the edge business of tomorrow (as we see with IBM, Netflix, and Marvel in Figure 1), so too are the core talent practices of today likely to deteriorate and be replaced by the edge talent practices of tomorrow. That's why it's essential for HR, OD, and LD professionals to carve out the time and attention now to explore that edge and design a path to the future for their enterprises.
Figure 1: Core vs Edge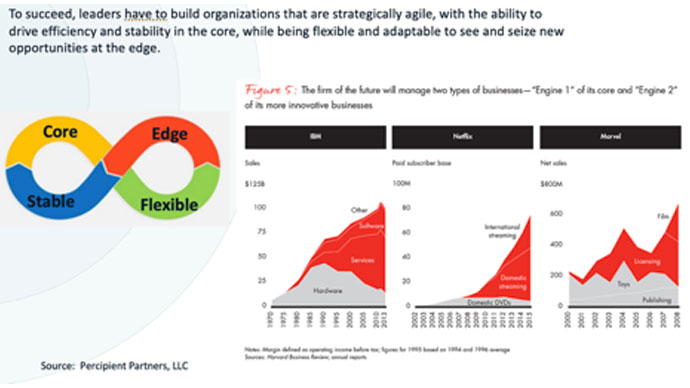 The Right Stuff: A Model of the Future Fit Organization
What are those edge talent practices? We'll indicate what we believe might be in store. But first, let's review a speculative model of the Future Fit Organization. The model leverages workforce trends we have been tracking for three years along with futurist's forecasts, research reports, and competency-based analyses, plus dialogue and insights from MDA's leadership development experts and executive coaches, and its cross-industry clients. In sum, we believe the changing nature of work will place a premium on three core capabilities, found in the purple inner ring of Figure 2.
Figure 2: The Future Fit Organization
Excellence in three core capabilities will distinguish Future Fit Organizations. Their leaders will exercise five essential roles and leverage a wide variety of leading-edge practices to operate most effectively in this new context.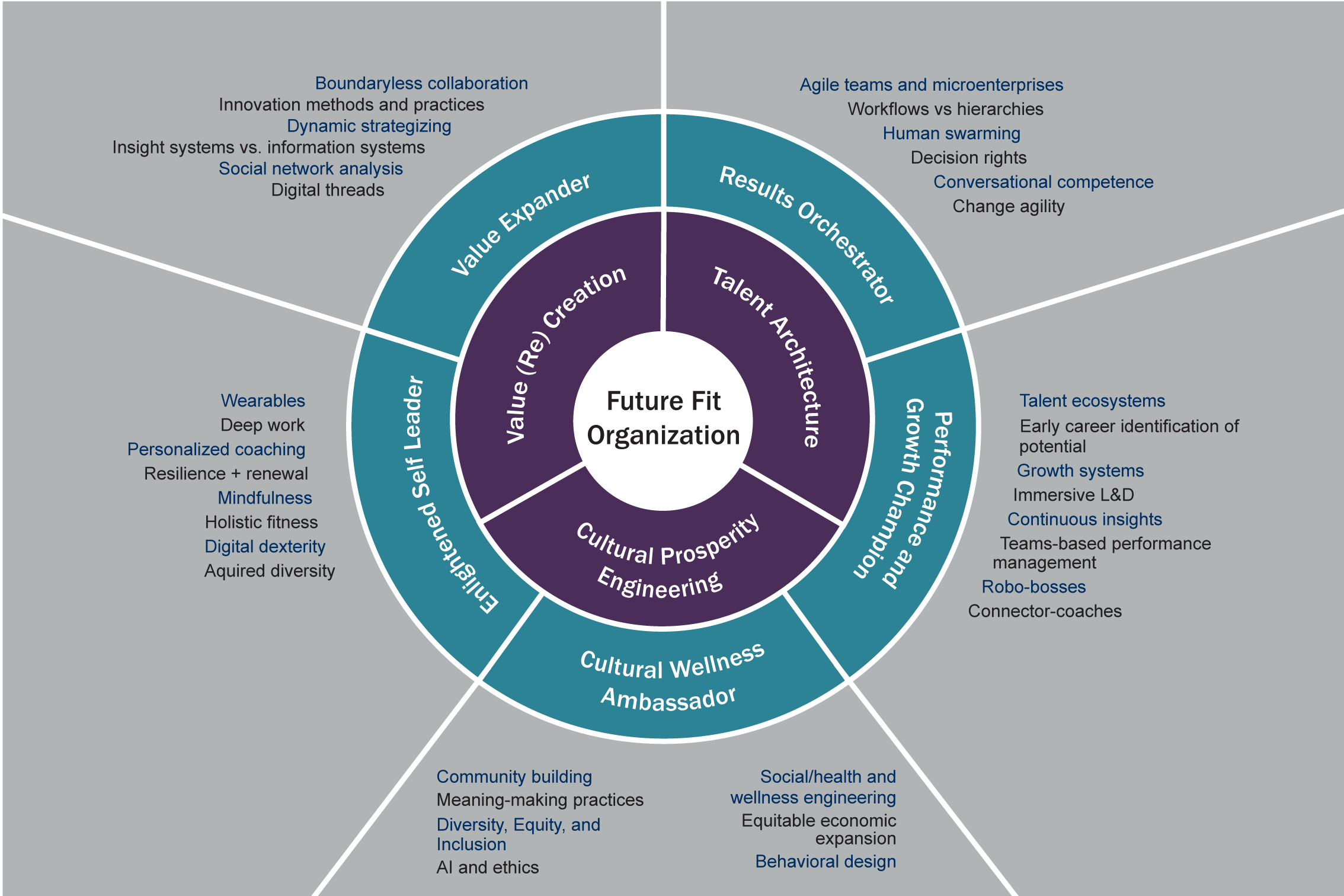 1. Value (Re)Creation
Disruption has become such a buzzword that it has in many ways lost its teeth. Yet disruptive business models and technologies will continue to reshape whole industries. Disruptive global, regional, and domestic phenomena—such as climate issues, health crises, and mass migrations—will increasingly impact markets in unpredictable ways. Rather than fade, disruption is accelerating as a force. The changes outlined earlier in this article and many more as yet unidentified will upend not only the value proposition of the enterprise, but also the value proposition of every function, be it Manufacturing, Operations, Sales and Marketing, Customer Service, HR or IT. Like never before, organizations will need all enterprise leaders, all function leaders, and teams at all levels to continually redefine their enterprise contributions and identify new, expanded value opportunities. As an increasing number of tasks become automated, the premium will be on this higher level, creative, boundary-spanning, synthesizing work, and on a new kind of leadership that empowers teams to uncover hidden value at the local level. The widespread deployment of design thinking methods will help, as will data analytics that deliver insights and not simply information to the front lines, social network analysis to discover high value nodes, and other techniques to enhance social capital. In short, we believe intentional, incentivized value creation at all levels will be a core capability of the Future Fit Organization.
2. Talent Architecture
According to the latest JOLT survey from the U.S. Bureau of Labor Statistics, job openings dropped by 364,000 to 6.4 million in December 2019. Despite the decrease, this was the 22nd straight month that the number of job openings was higher than the number of unemployed job seekers, reinforcing a clear message: the availability of talent will continue to be the limiting factor for organizational growth. Thus the core capability of talent architecture will be a critical differentiator as this decade advances. We need profound changes in how we identify, assess, deploy, and accelerate the development of talent. Leading edge organizations are strategically rethinking the talent ecosystem, experimenting with new practices such as open source recruiting, talent exchanges, affiliate programs, and internal talent marketplaces.
As this decade continues, businesses will find that they must more carefully assess the talent they bring in from the outside to ensure capability and fit or else risk high-cost failures. And given scarcity, they must place greater emphasis on identifying, developing, and retaining in-house talent. While today's organizations focus almost exclusively on high-potential talent development at more senior levels, they will need to place greater emphasis on early career identification of potential. (Elsewhere we have discussed how future growth is tied strongly to early career identification of leaders in the biotech industry.)  Wise HR, OD and LD professionals have begun doing the "edge" work now, experimenting with new systems and practices for driving team-based performance, equipping managers to be connector-coaches, rethinking the blend and relative value of micro- and macro-learning for their unique contexts, and much more.
3. Cultural Prosperity Engineering
We use this provocative phrase to encompass a range of critical practices needed to shape thriving, responsive, purpose-driven work environments. Future Fit Organizations need to intentionally engineer the next generation of employee engagement and inclusion. New and different kinds of attention and cultural practices will be needed in response to big changes in worker anxieties, expectations, sources of satisfaction, and performance needs in a 4IR world. This includes increasing expectations that organizations will function as social enterprises and the high likelihood of rising climate and social justice activism among employees as the twenties progress.
Addressing these factors throughout the employee life cycle and designing high-performance work environments will include leveraging science-based practices to promote work communities of meaning, connection, inclusion, and wellness. Thoughtful strategies for shaping cultural prosperity must also address and mitigate alarming upward trends in serious mental health problems among young workers entering the workforce, including depression, anxiety, loneliness, and feelings of isolation. Costs in potential lost productivity are huge for enterprises who fall short in this core capability of Cultural Prosperity Engineering.
The combination of accelerating technical and cultural changes in a 4IR world and the heightened worker uncertainties and anxieties they induce will place a premium as never before on effective leadership. A key question for leadership development professionals is this: how do we equip enterprise leaders to create authentic, inclusive, human-centered work environments that generate increased value for employees, the enterprise, its customers, and the communities in which our businesses operate?
Our model's five pivotal leadership roles (see the teal circle in Figure 2) identify five leadership literacies—to use Bob Johansen's phrase—or clusters of capabilities exercised by the Future Fit Leader. As we shared in a previous article on the Future Fit Leader, while transformative changes on the near horizon might induce future shock, our view is that the future field of leadership development will not be wholly unrecognizable terrain. Much of what we currently know and believe about leadership will endure. But what is becoming increasingly clear is that tomorrow's leaders will need to apply those enduring leadership capabilities with greater intensity and sophistication, and amidst radically changed contexts.
Today's Talent Practices Likely to Endure—and Deepen in Importance
Similarly, while we argue that major changes are needed in our talent systems and methods, it is consoling to recognize that several current practices that leading organizations have invested in are likely to endure—and deepen—in importance as this decade unfolds. We describe them here and then will reserve our predictions of several new, emerging talent practices for part two of this article.
1. Defining leadership requirements and critical skill sets
MDA has been helping organizations build leadership pipeline models for decades. This work seems as vital as ever—arguably more so in a decade of unprecedented changes. Amidst such fluid contexts, organizations need refreshed leadership models that describe what success looks like in rapidly changing contexts. A common language and a common set of behavioral expectations create clarity and alignment, and act as an anchor for all talent systems. MDA's best clients are moving beyond descriptions of what worked in the past and doing the hard work to identify leading edge practices and pockets of excellence. The success factors we co-create provide a blueprint in times of great flux.
Increasingly, such models will need to include behavioral indicators for how to operate in more agile and fluid environments with more distributed authority, how to navigate the new terrain of human-machine interfaces, what constitutes trust-building and ethical behavior in an era of potentially intrusive technologies and remote workers, what a new level of customer intimacy looks like, and more. This is established work that many in our profession know how to do, but it must be executed with greater intensity, skill, and foresight. As a recent Gartner article emphasizes:
HR executives will have to continually partner with business leaders in 2020 and beyond to maintain the proper balance of emerging, existing and legacy skill sets needed to drive the organization as it transforms and responds to disruption. Developing these skills in-house is especially important given that competition remains fierce for critical talent segments, making it difficult to find and acquire missing skills.
Refreshed, future-focused leadership models offer another important benefit. In talent constrained times, they become increasingly important tools for recruitment, demonstrating more than mission statements and corporate values the cultural fiber of the organization.
2. Assessment for selection and development
Accelerated change, a VUCA-operating context, and talent scarcity are combining to make every leadership choice a more vital and riskier proposition. Organizations need deep talent insights to make informed critical decisions on hires or promotions into linchpin roles. We readily admit our potential bias here in placing assessment among the pillars for the Future Fit Organization's talent practices. MDA Leadership has provided assessment solutions for selection, development, and succession to its global clients for nearly 40 years. Yet assessment, and the assessment center methodology in particular, which employs a multi-tool, multi-rater approach, level-specific business simulations, and business context and cultural fit considerations, has the highest predictability of performance (Sackett et al., 2017) and continues to be the gold standard. Factoring for the context of a leader's future challenges proves to be an especially important component. The most recent winner of the Applied Research Award by the Society for Industrial and Organizational Psychology (SIOP) demonstrated that identifying and comparing specific leaders' strengths to the critical context of their next role's challenges can increase the ability to predict leader success by up to 300%. In addition, with increased attention given to mitigating bias and harmful structural realities, third-party assessment for selection and promotion will remain a wise and necessary practice

The fierce competition for talent expected throughout the twenties also elevates the importance of developing internal talent. Identifying, developing and retaining in-house talent is the smartest investment an organization can make in these circumstances. While many organizations focus high-potential talent development solely at senior levels, those that extend development of high potentials below senior levels are 4.2 times more likely to financially outperform those that don't. In addition, research shows that a wisely promoted insider will typically outperform an outside hire for at least three years, and at a substantially lesser cost. Given these factors, assessments for selection and development will become increasingly important for accurately determining key talent. This will be especially true of assessments that identify early career leadership potential, such as MDA's Bench Strength™ assessment, ensuring that rising talent and "hidden gems" are tended to and retained.
3. Facilitated Cohort Learning
Companies will continue to invest in micro-learning tools, online learning platforms, and immersive learning capabilities. The twenties will see accelerated adoptions of virtual reality and gamification in learning and development, along with wearables, coaching bots, and other learning-in-the-flow-of-work aids. New talent entering the market are sophisticated digital natives who will expect and demand such learning modes. Yet co-equal with micro-learning, we predict the enduring importance of context-embedded macro-learning, and a deepening need and desire from that same young talent for facilitated and expert-led cohort learning experiences. Josh Bersin's research, among others, emphasizes the dual needs for, on the one hand, "I need help now" short-duration learning to "upskill," and on the other hand, "I want to learn something new" deeper, lengthier, socially-supported "reskill" learning experiences.
Younger workers have also made it clear in several recent surveys that they do not want isolated "self-service" solutions to workplace learning and development, fearful that it quickly devolves to "do it yourself" or "go it alone" development. As Bersin emphasizes, "they also want to meet with peers, learn from experts, and take developmental assignments to gain exposure." Further, as noted earlier, significant mental health issues in a large portion of college students point to a strong secondary benefit of more traditional "together in one space" learning: fortifying experiences of social connection, collaboration, and mutual support via peer learning, mentoring, and coaching. Future Fit Organizations then, will employ a skillful blend or balance of learning modes with an eye not only to the development of human capital, but also the development of social capital, in support of intentional cultural wellness engineering.
We highlight these three talent practices to emphasize points of significant continuity amidst the sea changes pounding our corporate shores. Those changes need not sweep away everything we hold dear. Happily, there are important existing capabilities upon which we can build and expand. In the second part of this two-part article on the Future Fit Organization, we present seven predictions for talent practices that we expect to gain in importance as the decade progresses, along with a set of recommendations on the best places to begin the work of building the Future Fit Organization. If we have stirred and provoked, then we have done our job. There are many paths to the future. What is certain is the mantra we know well from our executive coaching: what got us here won't get us there. The sooner we carve out time to do "edge" work with creative others, the better. As we do so, our hunch is that one meta-question may provide us and our leaders with a guidepost in the uncertain wilderness: How do we keep the human at the center of our work in ways that most benefit our talent, our enterprise, our customers, and our communities?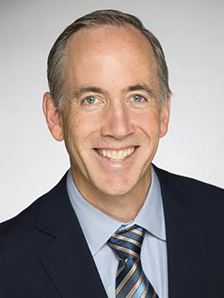 About The Author
Jim Laughlin serves as Senior Vice President, Leadership Development for MDA Leadership and is based in the Boston area. For more than 20 years, Jim has designed and implemented learning and leadership development systems for companies worldwide. He is also a sought-after executive coach with expertise in organizational communications, change, and transitions. jlaughlin@mdaleadership.com or LinkedIn.