Taking the Long View: Developing Future Fit Leaders
MDA Leadership applauds those eager early risers who joined us for a provocative gaze into the future of leadership in a session we called Developing Future Fit Leaders.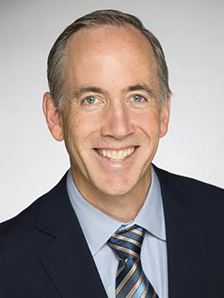 The session was held at the Human Resources Leadership Forum, an association of executives and senior-level HR leaders in New England seeking to stay current with issues, research, trends, and opportunities in the fields of human resources and organizational and leadership development. All recognized the value of stepping out of the here-and-now to begin reshaping ourselves and our organizations for a rapidly changing landscape for work and leadership. My colleague Lisa Gordon and I were impressed by participants' savvy comments and questions as we pursued answers to these critical questions:
What are top trends changing the nature of work and the requirements to lead effectively?
What might the success profile for leaders look like in 2028?
What are some of the markers for early identification of high potentials who can lead effectively into this future?
How do we best develop our rising talent for the changing demands of leadership?
We traversed a lot of territory, beginning with a look at five leading-edge workplace trends that are driving explosive changes in the ways we connect, work, learn, and lead. We shared MDA's speculative Future Fit Leader model that leveraged those trends along with futurist's forecasts, research reports, and competency-based analysis, plus dialogue and insights from MDA's leadership development experts and executive coaches. Here's a look at the five pivotal roles of the Future Fit Leader that we explored.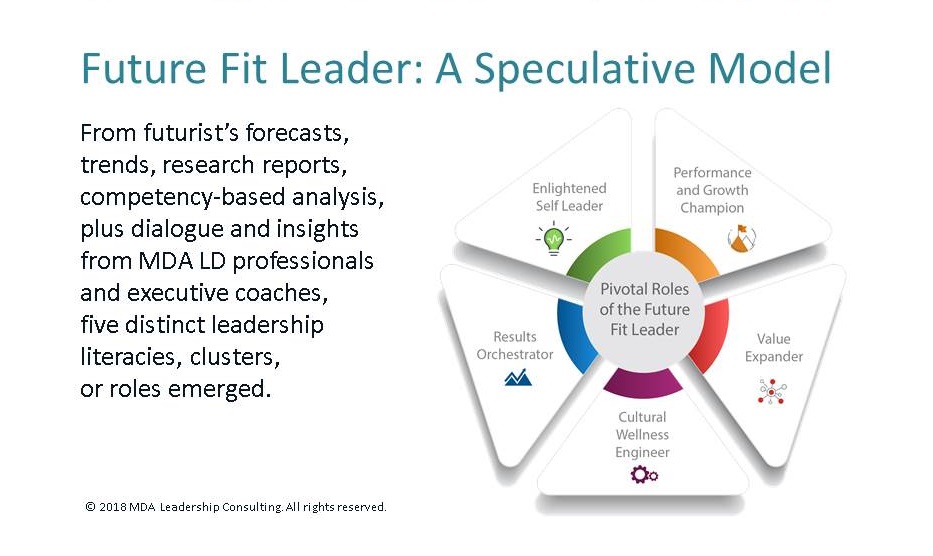 As we told our breakfast guests, while the truly transformative trends might induce future shock, our view is that the future field of leadership development will not be wholly unrecognizable terrain. Much of what we currently know and believe about leadership will endure. But what is becoming increasingly clear is that tomorrow's leaders will need to apply those enduring leadership capabilities with greater intensity and sophistication, and amidst radically changed contexts.
To illustrate, consider one essential and enduring leadership requirement: building trusting relationships. While this will remain essential to a leader's success in 2028, future leaders will need to build trust within significantly more challenging and complex contexts. Imagine yourself leading in a future in which:
You lead increasingly virtual, dispersed teams, including team players who are gig economy workers with no special allegiance to your organization, and
Your teams rapidly form, work in agile, semi-autonomous ways to attack particular projects, then rapidly disband, leaving no time for the traditional forming-storming-norming-performing cycle, and
Nearly ubiquitous sensors and radical connectivity deliver to you potentially intrusive performance tracking capabilities on your direct reports that—if not employed wisely—risk dangerous over-connection and erosion of trust.
More than ever, as the contexts and demands of leadership rapidly evolve, organizations need to bridge to the future through 1) better early, accurate identification of their leadership talent, and 2) innovative means to develop that rising talent for the changing demands of leadership.
This is why we have developed, in partnership with Hogan Assessments, a validated model and assessment instrument called Bench Strength. Bench Strength provides a cost-effective way to assess large numbers of early career employees and first-line leaders so that organizations gain a better, broader, and more accurate view of potential leadership talent in their pipeline.
It's also the reason we are rapidly evolving our executive coaching and leadership development practices, through innovative designs and technologies, to create the kinds of immersive, high impact learning experiences and science-informed coaching engagements required to equip the next generation of leadership.
MDA Leadership looks forward to organizing further gatherings for rich, exploratory dialogue and mutual learning. These are truly exciting times to be in the fields of talent management and leadership development.
About the Author
Jim Laughlin serves as Senior Vice President, Leadership Development for MDA Leadership Consulting and is based in the Boston area. For more than 20 years, Jim has designed and implemented learning and leadership development systems for companies worldwide. He is also a sought-after executive coach with expertise in organizational communications, change and transitions. More About Jim / LinkedIn