Function Leader Development Experience

™
Function Leader Development Experience
Called the "linchpin" of organizations, function leaders have arguably the greatest impact on your business performance. The criticality of function leadership to any high-performing organization led MDA to create FLDE based on our original research into the factors most predictive of excellence in the function leader role. This innovative 3-month development journey enables busy function leaders to accelerate business impact, improve leadership effectiveness, and enhance resilience and well-being.
Our offering enables your leaders to learn from and form strong bonds with talented function leaders from across industries. Or let us tailor an experience exclusively for your business, upskilling your function leaders and strengthening cross-functional relationships across your organization.
Click here to read more information about the Function Leader Development Experience.
To hear clients describe the value of the Function Leader Development Experience, visit the video library.
What are the five most critical roles for a function leader? Read our latest white paper today.
Why Attend FLDE?
A future of disruptions and uncertainty puts a premium on organizational capabilities to rapidly learn, pivot, and execute with agility. Function leaders are the "critical middle" who exercise these capabilities, serving as executors and reshapers of strategy in real time, vital talent developers, change leaders, internal influencers, and results drivers. As your function leaders succeed, so too does your organization. Their development represents your best investment. The career path of the function leader leads increasingly to the senior leadership table, with positions like CMO, CFO, and CHRO. Function leader development is an investment in those who play a central role in the current success of the business and will play an increasingly more critical role in its future success.
The FLDE In-Person Experience
MDA's learning design ensures an exceptionally engaged and energizing experience that optimizes learning. The design includes carefully sequenced, multimodal activation experiences, simulations, small and large group discussions, on- and offline refreshers, and networking events with cross-organizational peer leaders. 
Who Should Attend FLDE?
Someone who is serving as a function leader—a director, executive director, vice president, or senior vice president—and who is:
Assuming an expanding role or in consideration for a more strategic leadership role
In a leadership role, but wants to become a stronger enterprise leader
Virtually leading a distributed workforce and wrestling with today's most pressing leadership demands
Leading an operations, manufacturing, marketing, sales, finance or human resources function, or a business unit, geographic region, product group or customer segment
When confronted with new and challenging leadership disruptions, it's normal for any leader to suddenly feel stressed and isolated. This cohort-based development experience is specifically designed to provide all participants with the confidence, connections, and collaborative support they need to lead more effectively as function leaders.
Key Business/Learning Outcomes
Using a blend of modalities, including in-person and virtual instructor-led sessions, FLDE delivers targeted development experiences, such as robust assessment, strong experientially based formal learning programs, cohort learning, and challenging work applications to better equip function leaders to maximize their development and contributions.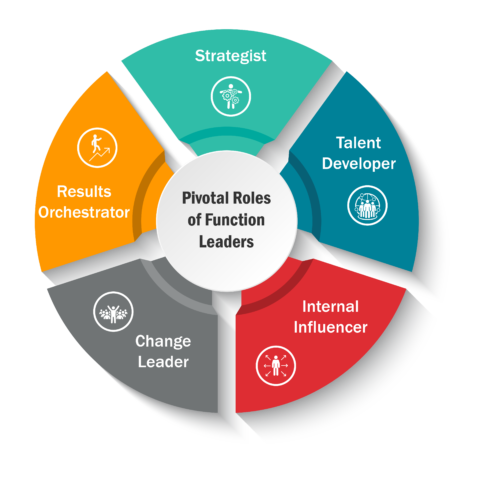 The FLDE program is built on a validated research model of the five pivotal roles that drive function leader success. Participants will grow in each of the following roles:
Strategist: Ability to bridge where the function is now with where it needs to go
Change Leader: Acts as a skillful sponsor and champion of effective change initiatives
Talent Developer: Applies the mindset and tools to attract, develop, and retain key talent
Internal Influencer: Thinks and works collaboratively across functions to influence
Results Orchestrator: Achieves consistent, timely, high quality results through others
"We had a great experience with the Function Leader Development Experience (FLDE). The payoff has been even beyond what we expected for the business. The people we selected to attend now have a close cohort relationship. Since then, a few of the participants have been promoted and are well positioned as successors to senior executive roles." – Alixandra Colehour, Vice President, Human Resources, Sleep Number
C-suite Selection and Succession: Delivering Leadership Excellence for the Future
MDA Leadership helps CEOs articulate executive leadership needs, identify top talent, and accelerate C-suite transitions.
Senior Executive Blueprinting ™
Succession planning begins at the top. CEOs, in partnership with human resources and their boards, must think carefully about the talent they need for the future in key leadership roles. Similar to CEO Blueprinting™, MDA Leadership helps our clients articulate the executive leadership they will need to successfully navigate emerging business challenges and drive evolving strategies.
C-suite Selection and Succession
Not all C-suite hires and promotions achieve success. We help CEOs select the right executives by bringing an informed, experienced, and objective voice to the table. Based on a CEO's criteria and an organization's norms, we assess and analyze executive candidates to provide definitive and well-grounded promotion and hiring recommendations.
C-Suite Transitions
About 60% of executives say they were not prepared for the strategic challenges they faced in their new senior leadership roles.3 MDA Leadership accelerates effective transition into the C-suite. Through a unique discovery process, we help executives gain deep insight into what it will take to be successful given stakeholder expectations, team dynamics, and the nuances of C-suite leadership. Our seasoned coaches guide leaders in designing and executing highly relevant and engaging onboarding plans.
Board Services: Enhancing Board Effectiveness
MDA Leadership helps boards strengthen their governance roles and internal dynamics.
Board Evaluations
Most boards are required to evaluate their own performance on an annual basis—an exercise that can range from "checking the box" to an experience that truly engages board members in the right conversations. Our services include full board evaluations, individual director reviews, peer feedback, chair role transitions, and action planning.
Board and CEO Consultation
Creating strong board and CEO collaboration requires mutual trust and respect. Forging and maintaining productive relationships cannot be left to chance. MDA Leadership provides trusted advisor consultation for CEOs and their boards to foster alignment in critical areas such as decision-making, role clarity, governance, and communication.
CEO Coaching and Trusted Advisor Consultation
Two-thirds of CEOs don't receive any outside advice on their leadership skills, and yet almost all would be receptive to suggestions from a coach.4 Since a one-size-fits-all playbook for CEOs doesn't exist, MDA Leadership provides CEO coaching. Whether business performance is hitting the mark or not, even seasoned CEOs benefit from the safe place and counsel we provide to help them evolve their leadership.

Let's begin a conversation.
At MDA Leadership, we know there are no one-size-fits-all solutions for every organization. We take the time to get to know your business and your leadership needs and recommend a range of options that are the best fit for your growth goals. Let's see how MDA Leadership can optimize your Talent Strategy for the Long Run®.